10 Best Wet Dog Foods Ideal for Your Furry Friend
What is Wet Dog Food?
Wet dog foods are soft moist chunks that come in containers, cans or pouches. They're super tasty, full of protein and easy for dogs to consume with less chewing. Wet dog food can be a great addition to your dog's diet and for the picky eaters.
There are pros and cons to wet dog food vs dry dog food. It tends to be more palatable and easier to eat perhaps for senior dogs etc, and often has higher protein content. However it also tends to be more expensive, spoils more easily and larger volumes are required. Choosing whether to feed your dog a wet or dry dog food will be a personal choice or one decided with your vet. You will find there are hundreds of different wet dog food brands available online. So what's the best brand on sale today?
Best Wet Dog Food UK
Dogs are mans best friend and beloved family members. With our dogs, we always want the best. We take care of our own health needs with a good diet, and the same is important for your dog too. Dogs need a tasty, palatable meal which is balanced for their individual needs. We researched and wrote about the food needs of dogs, so have a look here.  We did our research into wet dog foods too and came up with 10 best-wet dog food that your furry friend should enjoy eating.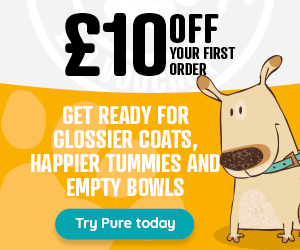 1. Lily's Kitchen Grain Free Multipack Wet Dog Food
We recently did a lot of reading about dog food allergies and intolerances, and also had a closer look at what was contained in dog food. We noticed that intolerance to wheat products were growing and more pet parents are choosing to swap to a grain free diet. Hence many of the most popular selling dog foods are now grain free, and Lily's kitchen has a great offering here with this wet food multi-pack. Lily's kitchen foods only contain fresh meat in their products, alongside other fresh ingredients such as vegetables and herbs, alongside essential vitamins and minerals to make up a complete diet. They do not contain meat meal or other meat derivatives. If you want to know more about these terms, we talked about it in our post 'whats in your dogs dry food'.
This grain free multi-pack offers 4 delicious flavours of food for an appetising variety for your dog. It is not a budget dog food, but highly regarded by many pet owners alike.
Features:
Multipack of various flavours of complete wet dog food

Grain-free 

Using only fresh ingredients

No meat meal, rendered meat, or bone meal

No derivatives, preservatives or fillers – all natural ingredients

Certified B-corp company
£5.40/kg (12 x 400g cans)
Rated 4.6/5 on Amazon
2. Nature Diet Natural Dog Food.
If you want your dog to be healthy, have a nutritious and quality food? Naturediet has all those as it ensures finest qualities in their ingredients with no artificial preservatives, flavouring and colouring. All their menus are nutritionally balanced and contain all the nutrients your dog needs for a healthy, active life to reduce the risk of allergy. Naturediet use freshly prepared chicken that's white meat which is yummy to your dog. It is highly palatable and suitable for adults, senior dogs and those with digestion issues. Nature diet chicken is a complete food containing all the essential nutrients your dog needs for a healthy diet. Naturediet is a complete natural dog food which keep dogs naturally healthy, that's why their wet dog food is hypoallergenic and free from artificial ingredients, preservatives and other nasty chemicals; perfect for fussy eaters or dogs with allergies. All packs contain at least 60% real meat, brown rice, vegetables, herbs and other natural goodness. Based upon holistic principles, using only the finest quality, natural ingredients, their traditional range is made without artificial preservatives, colourings or flavourings and is wheat gluten free.
Features:
100% Natural
Based on holistic principles
Hypoallergenic
At least 60% real meat
Full of Natural Goodness.
The grain-free lamb meat menu is highly palatable and uses only freshly prepared lamb to help reduce the risk of potential allergies to your dog.
£2.61/kg (18 x 390g trays)
Rated 4.4/5 on Amazon
3. Forthglade 100 Percent Natural Grain Free Complete Wet Dog Food Fish Variety Pack
Forthglade is a Devon based producer of natural pet foods, producing foods with 'no junk or fillers', just natural ingredients. This grain-free fish range provides 2 different flavour of Salmon and Sardines with 12 complete meals for your dog.
Combinations each with 75% meat content and other carbohydrate and fibre rich nutrients like squash and sweet potato, for a balanced diet. Most of the ingredients Forthglade uses come from within the UK, and they pride themselves on their ingredients and promise honesty in their recipes – nothing hidden.
The company have also moved back to using white trays for their wet food and removing individual cardboard sleeves from the wet food multipacks, in an effort to become more eco-conscious and reduce packaging.
A highly recommended dog food at a very affordable price point.
Features:
Natural grain free wet dog food 12 variety pack which consists of 6x Salmon 395g, 6x Sardines 395g.

75% fish – a great source of Protein for your dogs 

Suitable from 1 year

Grain free, perfect for dogs with gluten intolerance

No sugars, artificial colours, flavours or preservatives.

Made in Devon

£2.92/kg (12 x 395g packs)
Rated 4.5/5 on Amazon
4.  Natures Menu Chicken and Duck
Natures Menu produce both raw and raw-inspired meals for pets. You may have heard of raw pet food – we recently did our own bit of reading into this popular movement. Natures menu promise to use only the finest natural ingredients including human-grade poultry and meat from responsibly sourced farms, and sustainably-sourced fish along with other natural additives such as herbs and oils, and fresh vegetables delivered daily to their UK factory.
The natures menu multipacks are made with gently cooked whole meat, with no derivitaves, minimum 60% meat with added vegetables and rice to form a complete meal.
The natures menu range comes a bit pricier but is well loved, highly rated dog food and we like to display a range of foods to suit a range of budgets, and we think this one is worth it.
Features:
Made with real, human grade meat – no meat meal or derivatives 

Cooked gently to retain goodness

Complete dog food

Ethically sourced ingredients

Free from artificial colours, flavours and preservatives

Vet approved

£4.53/kg (8 x 300g packs)
Rated 4.6/5 on Amazon

5. Amazon Brand – Lifelong Complete pet food for adult dogs – Meat in Jelly Selection
For a lower budget but high quality food we looked at the Amazon Brand 'Lifelong Complete' as an option, with the convenience of buying and saving online.
The major differences with the lower budget dog foods tends to be that instead of using 'whole meat' i.e a piece of chicken breast or beef, the meat content contains meat and animal derivatives, often termed 'meat meal' for example. It is easier to choose if customers are well informed, and Lifelong Complete is clearly worded to reflect this, which we like.
You can also choose the 'meat in gravy range' if your pooch prefers, with 4 flavours per pack of 24 convenient pouches.
Features:
A complete food for adult dogs

Contains eat and animal derivatives 38% (including a minimum of 4% of the named protein). All meat ingredients and derivatives come from animals fit for human consumption

With inulin fibre to aid digestion

With vitamin D3 to support bones and teeth; With vitamin E to help maintain the immune system

£3.33/kg (24 x 100g pouches)
Rated 4.4/5 on Amazon
6. PEDIGREE Dog Pouches Mixed Variety in Gravy
Pedigree is a well known trusted commercial pet food brand (one of the Mars brands). Being a large commercial producer, you can still get a quality product at  a lower price. Pedigree use meat and animal derivatives in varying proportions, depending upon what is available on the day and season. They don't contain artificial colours, flavours or preservatives.
Their wet food pouches come in gravy or jelly selections in a variety of flavours, this 40 x 100g multipack proves very popular and is a top rated product on Amazon (4.8 stars!).
Features:
Mixed Selection in Gravy

100% Complete and Balanced pet food

Dog food contains no artificial colours, flavours or preservatives

£2.62/kg (pack of 40 x 100g)
Rated 4.8/5 on amazon
7. Pooch & Mutt – Fresh Wet Dog Food (Grain Free & Complete) – Turkey and Chicken
Pooch and Mutt are a small UK brand of dog food whose owner wanted to produce a complete dog food with built-in health supplements, inspired by his own dog who had hip dysplasia. Pooch and Mutt was formed, and they developed a range of dry and wet foods as well as treats, providing complete diets for your pet.
Pooch and Mutt only use fresh meat and vegetables, natural ingredients, and their TetraPak cartons have been shown to be better for the environment and impact on global warming than cans and are 100% recyclable.
Their wet dog food comes in a variety of very palatable flavours, for example chicken and turkey which contains 26% fresh turkey and 21% fresh chicken, alongside fresh and dried vegetables, fruits, and good stuff like yucca, a natural deodoriser, and prebiotics for digestive health.
Pooch and Mutt are a small ethical brand that we like very much, but you'll pay a little more for their quality foods.
Features:
A complete, natural dog food, from 3 months onwards.

Grain free – good for gluten intolerance and sensitive tummies

Fresh, locally sourced ingredients

100% recyclable packaging – (c

artons have an 80% lower global warming potential than cans)

No artificial colours, flavours or preservatives

A small, ethical British company which has won awards 

£5.04/kg (12 x 375g pack)
Rated 4.3/5 on Amazon
8. Barking Heads Wet Dog Food – Bowl Lickin' Chicken 
Barking heads grain free chicken recipe contains 60% fresh deboned chicken and another 25% chicken broth, free from anything artificial.
They are another relative newcomer to the market, providing premium pet foods to those who seek them. Barking heads was the idea of 3 dog lovers who got together and left their jobs at a commercial pet food brand, to pursue a dream of improving the quality of pet foods available at the time.
Now of course, the market is awash with similar companies all trying to compete with the same ethos of all fresh, all natural ingredients, hypoallergenic foods and eco sustainability. At RangersDog we like to showcase these smaller premium brands amongst the trusted market leaders to show that there is a range of products out there for all requirements.
Barking heads certainly gets our seal of approval, and plenty of others too.
Features:
Contains 85% chicken (60% fresh, 20% broth)

Made with only natural ingredients and free from artificial colours and preservatives 

Vitamins and minerals added to ensure a nutritionally complete diet

Slow cooked recipe

Grain free food
£4.33/kg (Pack of 10x300g)
Rated 4.7/5 on Amazon
9. HARRINGTONS Mixed Bulk Wet
We like Harringtons brand and they too, feature in our dry dog foods article. They seem to get the balance between price and quality and so we couldn't refresh our wet dog foods review without including their range. Buying in bulk also makes sense especially if ordering online, a 48 pack contains 4 flavour combinations for plenty of variety.
Harringtons is a family run business, with food made in Thirsk, North Yorkshire. Harrington's USP is their commitment and focus towards the environment.
This wet food range is grain free, and free of dairy and soya too, so will appeal to those who are looking for a hypoallergenic diet for their dogs. For a more budget end wet dog food it's high in human grade meat content, and a good option for a more limited diet.
Features:
Grain free

No artificial colours, flavours or preservatives

Green Lipped Mussel for a rich source of Omega fat and rosehip for vitamin C

£3.13/kg (pack of 48 x 400g)
Rated 4.3/5 on Amazon
10. Royal Canin Sensitivity Control Dog Food
Royal Canin sensitivity dog food is a sensitivity control complete wet dietetic feed for dogs which is specifically formulated to reduce ingredient and nutrient intolerances. In 1980 Royal Canin introduced specific diets for large breeds. They take into account age, activity, breed, size and lifestyle when formulating the unique dietary needs to provide nutritious solutions to your dog. The ingredients used is limited proteins to help reduce the risk of food allergies. Royal chain sensitive food reduces serious digestive problems and improves coat and skin of your dog. It comes highly recommended to adults with stomach problems by vets.
Ingredients
Meat and animal derivatives, oils and fats(Omega 3), cereals, derivatives of vegetable origin, vegetable protein extracts, minerals, yeasts,  Vitamin D3, E2 (Iodine), Copper, Manganese,Zinc , EPA AND DHA.
Features:
Includes a limited number of proteins to reduce the risk of allergies.
Contains fatty acids to help maintain healthy digestion and skin.
Contains nutrients that help to support a balanced digestive system.
Incorporates a patented complex designed to support the barrier effect of the skin.
40 packs of 140 g each.
£8.26/kg
Rated 4.2/5 on Amazon
A lot has been done through research, talking to various dog veterinarians and dog owners to bring you the best wet dog foods listed above. it would be a challenge and sometime a headache to any dog owner as the shopping malls are full of different variety of dog food claiming to be the best and nutritous to your dog with some having ingredients you can not pronounce and comprehend which can later turn harmful to your dog. you need to know your dog dietary needs and issues like sensitive stomach, healthy matters to get the best food which is quality and nutritous and we have made it simpler with our 10 best wet dog  food list for you as next time you are going to shop food for your furry friend it will be smooth sailing.