What's in Your Dogs Dry Dog Food?
What is in Your Dogs Dry Dog Food?
Dogs are a Mans Best Friend, right? So what we feed our dog probably means a lot to us. The thing is, our lives are getting busier and our free time is precious. When it comes to our diets, human AND canine, we often seek out convenience and value for money. You would expect that the dog food you buy would be right for your pet, that the manufacturer had gone to the efforts of producing a complete diet so that all you need to do is feed the right amount to your pooch.
In many ways this is true. In the UK, pet food manufacture is regulated by the Food Standards Authority, and should, therefore, provide reassurance that all food was manufactured to certain set of guidelines which keep your pet healthy and safe from harm, where his diet is concerned.
We recently did our research into dry dog foods in order to inform our review of our top ten best dry dog foods. Trawling through the hundreds of foods available made us realise just how confusing food labelling can be, but also the huge variety of foods available would make it difficult for any conscientious dog owner to know what to choose!
As a supplement to our review, I thought it would be a good idea to have a look at some of the terms used when you read the ingredients on your dry dog food label, to help inform decision making when choosing the best food for your dog.
What Nutrients Do Dogs Require?
The ASPCA summarises all the essential nutrients your dog requires to stay healthy at the different life stages.
A healthy dog needs these key nutrients:
Water – 60-70% of an adult dogs bodyweight, essential for life, dehydration leads to death
Proteins – generally from meats, fish and eggs and some vegetables, cereals and soya
Fats – twice the energy of carbohydrate and proteins
Carbohydrates – including glucose essential for brain energy, and fibre for digestive health
Vitamins – tiny amounts required, obtained from a complete diet. Over-supplementation is dangerous.
Minerals – important for bones, teeth, metabolism and fluid balance.
This isn't dissimilar to human requirements either, just that humans and dogs require different proportions of these.
How Much Food Does a Dog Require?
How much of each essential food group depends on the following factors:
Age – puppies tend to require as much as twice the energy as an adult dog, and have higher protein requirements for growth. A working adult dog will have higher energy requirements than a sedentary lap dog. A dog recovering from surgery may have different nutritional needs while he is convalescing. A senior dog will require different amounts of nutrients and energy due to age-related changes that occur during later life. Large breeds tend to age faster than smaller ones, therefore choosing the right time to introduce a senior food depends on the breed you have.
Breed – it is recognised that certain dog breeds may have adapted to specific diets based on the location from which they originated, and owing to genetic differences between them. Therefore, do your research on your particular dog breed and take into account his activities, before choosing the right dog food for him.
Size – hand in hand with breed, the size of your dog may influence the nutritional requirements. A smaller breed may require more energy for his body weight as his metabolism may be higher.
Activity level – As we've pointed out, an active adult dog will need considerably more energy in his diet than the average pampered pooch. Working dogs and lactating mothers are of particular note. Pregnant and lactating bitches need higher energy and protein in their diet, and although there are some greatly detailed resources online which I find very valuable, speak to your vet too.
Allergies and Sensitivities – we recently blogged about this too. A growing number of our furry friends suffer with some kind of food intolerance. If you think your dogs dry food may be the cause of his poor skin or stomach upset, consider which ingredients may be causing it and seek change his food for a while. You can still give your dog a complete dry dog food while catering for his intolerance because many manufacturers have produced diets to cater for these, such as grain free and single source proteins.
Illness – dogs with certain chronic diseases such as renal disease, diabetes and even obesity, will require changes to their diet. Changed need to be guided by a veterinarian.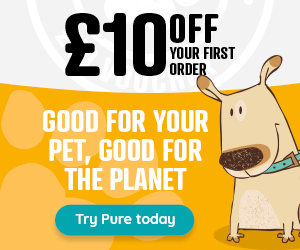 What Is In Dry Dog Food?
Let's take a look at two of the labels from the foods in our top ten, each picked to reflect foods that contain a variety of ingredients and different budgets. These foods don't contain an exhaustive list of all possible ingredients we have ever seen, although to discuss every ingredient in turn would probably require us to write a handbook (now there's an idea…!).
Harrington's Lamb and Rice:
We can see the ingredients and the added vitamins and minerals which make up the complete meal.
Let's pick on some of the terms used:
Lamb Meat Meal
Meat Meal
Citrus Extract
Yeast
Yucca Extract
Additives
Now let's look at Lily's Kitchen Chicken and Duck:
Terms used include:
Freshly Prepared Chicken
Pea Protein
Fructooligosaccharides
Mannan Oligosaccharides
Glucosamine
Chondroitin SUphate
Botanicals and Herbs
Looking at the above lists, we'll discuss each ingredient in turn:
Whole/natural meat  (incl. "freshly prepared meat")– meat in its whole form. It has not undergone a rendering process. It is limited to the muscle and attached skin/bone. Whole meat contains a lot more water than meat meal (65-70%), which gets removed during cooking. It may result in a comparatively lower protein content than using meat meal, and you may see concentrated vegetable proteins used to increase overall protein content in the end product. However, many dog owners would prefer to know that fresh whole meat products were used in the manufacture rather than a dried powdered form.
Meat meal/rendered meat – meat meal is the dry end product of the rendering process. Rendering meat involves the cooking of the meat product to remove micro-organisms and parasites, applying pressure to remove fats from the protein and solid bones, and grinding into a dry powder that is the end product used in pet food. It reduces waste as a lot more of the slaughtered animal can be used.
'Meat meal', according to the FSA, " is made up by parts of animals which are surplus to human consumption needs or are not normally consumed by people in the UK. Material of animal origin comes from animals which are inspected and passed as fit for human consumption prior to slaughter. The material must be free of transmissible disease, which therefore excludes material from dying, diseased or disable animals."
The advantage of meat meal is that it becomes a concentrated source of protein because it contains only 5-7% water.  Therefore much less is needed in the making of dry dog foods. It may not be the number 1 product on the ingredients list for this reason. Meat meal, for example chicken, may be listed as 'dried chicken', 'chicken meal', 'dehydrated chicken', or 'rendered chicken'. Meat meal which doesn't specify an animal, can come from 'any species of warm blooded land animal'.
Choosing between fresh meat and meat meal may have never crossed your mind before, and certainly at first glance you could be a bit put off by the process of producing pet food ingredients. That is the reason we produced this article! Meat meal we now know, isn't necessarily a bad thing. and I guess it's fairly obvious from those mass produced dry food kibbles, that some sort of 'processing' has occurred to turn a piece of  raw animal into dried dog food.
Pea Protein – vegetable proteins like these, seen in Lily's kitchen and other foods, are there to increase overall protein content. Lily's kitchen uses fresh meat, and as we have said, you need more whole meat to give the same overall protein content at the end. So it may be supplemented with vegetable proteins too. Some may argue that substituting  meat proteins for vegetable are not the best option for a dog, however dogs are omnivorous animals and can eat a meat and plant based diet, so the choice is yours.
Citrus Extract – used to help keep food fresh, a natural preservative.
Yucca Extract – is used to aid digestion, helping reduce the smell of urine/faeces and flatulence. It is from the Yucca Plant.
Yeast/Brewer's Yeast – is a great source of B-vitamins used in a lot of essential functions. It is also a source of protein and contains all 9 essential amino acids a dog requires.
Fructooligosaccharides / Mannan Oligosaccharides – increasingly added to dog food for their pre-biotic effects. They promote the growth of 'friendly bacteria' in the intestine and therefore improve digestive health.
Glucosamine / Chondroitin Sulphate – 'Chondroprotective agents' which you will see used by many dry dog food manufacturers. The use of these in dog foods, just as they are for humans, is for joint and bone protection. They are used medicinally in dogs with arthritis, however inclusion into food suitable for all healthy dogs may be of questionable benefit.
Botannicals and Herbs – often used for flavour, or sometimes for pharmacological effects. Taking each herb ever used in a dog food product would be an article in itself, but if you're interested in the medicinal use of herbs, whilst researching I came across the British Association of Veterinary Herbalists  who may provide valuable insight into this. Nutritionally, herbs may be able to provide some of the vitamins and minerals required by the dog.
Additives – all additives to pet food are regulated and have to be permitted for use under EU regulations. Regulations cover the categories of preservatives, flavourings, colourings, vitamins and minerals, additives which favourably affect performance i.e enzymes, microorganisms, coccidiostats and histomonostats (anti parasitics/anti-protozoals).
We could go on!
In Summary…
We hope to provide the idea that there is a wide array of different ingredients used in the manufacture of commercial dry dog foods. Many are natural ingredients, most of which will have undergone some degree of processing. Some are additives used to extend shelf life. Plenty add vital vitamins and minerals to enhance your pet's health. Many may have potential medicinal benefits such as joint protection and digestive health. Which ingredients  or potential benefits you choose to focus upon may help you choose the right food for your dog, so next time you think about which dog food to buy, have a good look at the label.