10 Best Healthy Dog Treats
Healthy Dog Treats 2021 Review
As your dog starts training, you can start introducing treats to her. Besides giving her a little energy boost between her meals, treats can help clean her teeth and exercise her jaw muscles. Treats are an effective and appropriate training tool and a great way to say well done to your pooch who follows rules. The goal should be to reward proper dog behaviour within any given environment.
We have several treats in the market and some cause allergies due to the ingredients used. Excessive use of treat can lead to obese dog, hence give at moderate portions. After researching and sampling many with our old dog Harry and our team of dog parents, we have come up with the best 10 among many that will benefit your dog and puppy.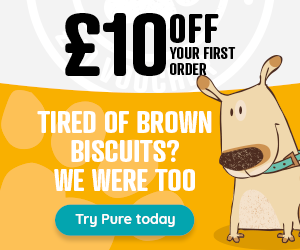 1. Wagg Training Treats
These are excellent as first treats when you bring your puppy home. They are soft and chewy and contain lamb and rice for sensitive digestion. You can give these from 8 weeks as they are perfect for those early weeks of toilet training and basic obedience.
Features:
Oven baked, bone shaped, training tasty treats.
Suitable for all dogs from eight weeks old.
With no artificial colours or flavours.
With no added sugar.
Ideal for training all dogs, especially puppies.
Rates 4.4 in Amazon.
2. Bounce and Bella Treats
These treats are made solely from 80% meat, potatoes and gravy!  Made with quality fresh poultry including chicken, duck and turkey, they are gluten free for a happy, healthy dog. The treats are small, approx 800 in a 500g bag, handy for a longer training session without worry of overfeeding pup. They are recommended from 16 weeks old or when pup has adult teeth, as they are crunchy. These treats come really highly reviewed and loved by dogs.
Features:
Quality fresh ingredients used which means a healthier happier doggy.
No additives, no preservatives, no flavourings, no sugars and absolutely no grain (or gluten) to bulk up the food cheaply.
Grain free treats.
Approx 800 treats per 500g bag.
Free PDF Training with Treats – emailed shortly after purchase!
Rates 4.8 in Amazon.
3. Pooch & Mutt Treats
Good for nervous dogs, great to use in training and has a wonderful scent, I love the idea they calm and relaxes the dog in stressful situations. Moreover, it has a handy container that means you can grab them quickly, excellent price. In addition, it is a perfect snack to help reduce flatulence and will make your pooch very happy. Pooch and Mutt have a focus on canine health foods, and the products have been developed with top UK nutritionists. This is a brand that we are really impressed with, have a look at their whole range of treats and foods too.
Features:
A great treat for dogs with sensitive stomachs or poor digestion.
Contains parsley, which aids digestion.
Contains charcoal to help reduce wind.
Contains chicory which is a natural prebiotic.
Natural, Ethical, Wheat free, low calorie.
Rates 4.5 in Amazon.
4. Pedigree Rodeo Dog Treat 
This treat is a favourite of many dogs as reviews show. A well loved brand of feed and treats, developed with vets and nutritionists, this dog treat contains omega 3, vitamins and minerals, to help build strong bones and teeth and brain development. No artificial colours, flavours or preservatives are added. Not specifically a training treat, considering only 1-2 are recommended per week depending on size! But a very moreish tasty chew for any lucky pooch.
Pedigree Rodeo twisted shape treats are a delicious treat for your canine and can be used to reward your dog.
Features:
A satisfying and long-lasting dog treat with a tough and tasty outer and a mouth-watering centre.
Omega 3 to help keep them fit for life, vitamins to help maintain your dog's natural defenses and minerals including calcium to help give him strong bones.
Less than 2 percent fat.
Free from artificial colours and flavours.
Complementary pet food for adult dogs.
For small dogs feed up to three sticks per week, for medium dogs six and large dogs 12.
Rates 4.8 in Amazon.
5. Misfits Scruffy Bites Dog Treats
These are the perfect size and texture, scruffy bites. Moreover, made of derivatives of Vegetable Origin, Oils and Fats, Meat and Animal Derivatives (10% Meat), Cereals, Various Sugars, Vegetable Protein Extracts, Minerals, Milk and Milk Derivatives. These treats claim to be the "dog trainers choice" in the UK and Europe, perfect for their small size, won't crumble in your pocket, and can still be snapped in half for even smaller training treats. Great for use in treat balls, or other toys for entertaining your pet or a game of fetch at the park.  The aromatic treats smell and taste delicious to your dog making them very moreish.
Pro:
Training made easy with these small aromatic and tasty training treats.
Ingredients include vegetables, oils, cereals, meat, and milk derivatives great for any dog size.
Small compressed treats ideal for repeat rewarding won't crumble in your pocket.
Ideal for puppies, small and large breeds.
9 bags of (9x180g)
Rate 4.8 in Amazon.

6. Bonio Mini Dog Treats
"Small in size biscuits yet big in flavour", making them the perfect treat. They are tasty good value treats although it is worth mentioning that they do contain wheat, as opposed to meat! Plus oils, fats and sugars. As an occasional treat goes, these are well loved and popular with dogs and their owners, their crunchy oven baked texture also helping with teeth cleaning by scraping away plaque. You can buy in 10kg boxes for economies of scale!
Pro:
Enriched with vitamins (A, D, E) and minerals.
Small in size yet big in flavour!
Carefully selected ingredients helps support your dog's overall health.
A complementary pet food that your dog will love.
With fibre to help support healthy digestion.
Rates 4.5 in Amazon.
7. Whimzees Natural Dog Treat
Whimzees Treats are made with all-natural ingredients, the vegetable based texture will help remove plaque and tartar as your dog chew keeping her teeth looking lovely. For a meat free alternative treat with a unique shape, have a look at these, they come highly rated with pet owners. Not suitable for puppies under 9 months, come in different size chews so choose the right ones for your dog.
Pro:
Whimzees shapes are good for a giggle, and they're great for gnawing.
100% Natural Ingredients.
Vegetarian, gluten free
No plaque and no tartar.
Produced to human-food grade standards.
Rates 4.7 in Amazon.
8. Bakers Sizzlers Dog Treats
Sizzlers are tasty bacon flavoured rasher shaped treats which contain meat as well as cereals and other addded ingredients. They are low in fat and have added nutrients including omega 3 and 6 for healthy skin and coat. A great all round treat, not necessarily for training due to size; recommended only 1-3 per day depending on the size of your dog.
Pro:
Delicious meaty rashers with an irresistible bacon flavour.
For any adult dog size.
Low in fat, No added artificial colours.
Contains Omega oils good for your dog overall health.
A complementary pet food.
Rates 4.6 in amazon
9. Pure Dried Fresh Dog Treat
These 100% meat, single ingredient air dried treats are ideal for all breeds of dogs. No additives, no grains means no gluten, leading to a healthy snack that is good for dogs with a sensitive tummy who may not tolerate grains well. Definitily not the cheapest treat! But as an occasional luxury for a lucky pooch, these come highly rated.
Pro:
Pure air dried 100% fresh meat dog treat sticks.
100% goodness made from pure fresh meat.
No additives or preservatives gluten free,
Use as a daily/occasional treat or a training Treat.
Delicious and healthy treat.
Suitable for all breeds, they are a great source of protein and are perfect for training or as a guilt-free snack.
Rate 4.7 in Amazon.
10.  Thrive ProReward Chicken Treats
Another air dried 100% meat treat we looked at, these chewy treats are very flavorsome, low in fat, and "high value" rewards for training. The Thrive treat range has several flavours, pure meat,  no added cereals. They are either freeze or air dried to intensify flavour and maintain the nutritional content. They come in a handy portable resealable tube which makes them good for on the go training.
Pro:
Made with pure meat.
Wheat/ gluten free.
Naturally low in fat.
Human grade ingredients.
No preservatives, flavours, added colours or sugars.
The ideal low fat treat.
Hypoallergenic.
Intense flavour.
Rates 4.4 in Amazon.
11. Pure: Freeze dried fish treat (Taste of the Ocean)
Taste Of The Ocean is a healthy single ingredient treat for dogs & cats. Made with nothing but wild-caught New Zealand white fish from the Pacific Ocean. A fantastic source of Omega 3's with no preservatives or added nasties. Each box contains over 90 fish chunks!
Pro:
Know your dog and buy a treat that suits him/her. As with all chews for dogs we recommend you supervise your dog while feeding and ensure that fresh clean drinking water is always available to avoid them choking. Ensure any treat you buy is suitable for the age and size of your dog and alter their food supply as appropriate to avoid overfeeding. Happy snacking!