Ten of the Best Dry Puppy Foods on the Market Today
Last Updated April 22nd 2021
Complete Dry Puppy Foods
What shall I feed my hungry new addition? There are so many foods to choose from…
Importance of taking care of your puppy
It is important to have lots of physical contact in the early months. We get that you are busy but you want the best for your puppy. There aren't nearly enough hours in the day to run a household, earn a living, plus  get some quality time with your family and pets. However, one of the most important things you can do to have a happy puppy is to observe and interact with her to learn her cues. Take time to play one-on-one with your pup before you leave for work. You can get a lot of toys for that. Puppies' needs should be largely met in the first months. A lot of love and care is needed, making your puppy feel safe, comfortable, and promoting a bond.
At this stage food is also important, whether it be wet or dry food. Puppies have special formulated food to cater for their nutrient and calorie requirements.
A few tips for feeding your Pup
Choose a dry food that is right for the size of your breed of dog. Some puppy foods are aimed at small/medium/large breeds.
Ensure you feed pup at regular intervals – the bag of food should offer some advice on feeding intervals and amounts based on the expected adult weight of your breed. Check with your vet if you are unsure about which foods are best for your breed.
 Introduce any new food slowly – ideally continue your new pup on the food his breeder started weaning him on and switch gradually if you prefer something else.
Always ensure a supply of fresh water. Mix with the food to soften it while pup is still young.
Don't be tempted to offer more than advised and risk overfeeding, as rapid growth can lead to health problems.
Nutrients essential in your Puppy's food
We've created a really useful informative article about what's in your dog's dry food, check it out here.
Proteins – essential for growth and repair, the building blocks  of life
Fats – the most concentrated energy source, helps with absorption of some vitamins, protects internal organs and used in some hormone production
Carbohydrates – useful energy in form of glucose required by the brain, and fibers which help gut health
Vitamins – in small amounts form part of  a balanced diet; vitamins play vital roles, often to aid metabolism. These should be added to a complete dry food in the right amounts for your dog, avoiding the need for extra supplementation.
Minerals – again help with essential functions and like vitamins cannot be made by the body so are required from the diet. A complete food should provide the necessary amount without you having to worry. Minerals like calcium are necessary for bone and tooth structure.
Water – probably the most important! Dry dog food is only about 10% moisture so added water is completely necessary.
The dog food market is huge, and is no different with puppy food either. We have trawled through and chosen ten foods we think are worth a further look!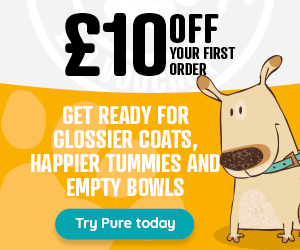 Best Complete Dry Puppy Foods
Good Choice for Sensitive Tummies
Name
Lily's Kitchen Perfectly Puppy
James Wellbeloved Complete
Harringtons Complete Puppy
Image
Free from Artificial Additives?
Name
Lily's Kitchen Perfectly Puppy
Image
Free from Artificial Additives?
Good Choice for Sensitive Tummies
Name
James Wellbeloved Complete
Image
Free from Artificial Additives?
Name
Harringtons Complete Puppy
Image
Free from Artificial Additives?
#1. Lily's Kitchen Puppy Dry Food
Puppies deserve the healthiest start in life and Lily's Kitchen Puppy food is a very high quality contender. It only contains fresh meat rather than meat meal, always as the main ingredient, blended with gentle ingredients such as fruit, vegetables and herbs. Never any unnnatural ingredients, it really does appeal. It is grain free and a good choice for those showing signs of food intolerances.
Lily's kitchen is a higher priced puppy food, but we do feel that for the quality it is worth paying more if you feel inclined to make the switch.
Lily's kitchen is the only certified B-Corp dog food company, and they have great eco-credentials too, from eco packaging to sustainably sourced ingredients. Oh and did we mention they are holders of a Royal Warrant too?!
Nothing is left to chance with this complete food. Not only does it contain the all important fresh meat and veg, but health boosting additions including salmon oil for a great coat and healthy skin, glucosamine and chondroitin for supple joints, prebiotics for digestion and other useful vitamins and minerals.
Lily's kitchen ensures great nutrition that builds a healthy immune system for your pup to give them the best chance for a long and happy life free of illness.
Features:
100% Natural and grain-free complete dry food for puppies
Suitable for puppies aged 4 weeks to 12 months
Gentle on the tummy and easy to digest!
Contains clear salmon oil to condition skin and fur.
High quality food for your puppy that builds a healthy immune system.
Contains an array of botanical herbs and nutrients from nature's for an extra healthy boost to your pup.
£5.74/kg
Rates 4.6 in Amazon.
#2. Pure Pet Food
We learned about Pure Pet food more recently and began to feature it in our best dry dog foods review as we were completely bowled over by its revolutionary approach to dogs' dinners! Not only is it great for adult dogs but it is suitable for all life stages, and all you have to do is fill out a quick and easy questionnaire about your pup's age, breed and health, and Pure will tailor their diet to the dogs requirements.
The pure pet food brand was born out of the question 'would you feed your pet anything you wouldn't eat yourself'. In a short space of time, Pure pet food has gone on to win awards, and creates high quality, human grade revolutionary freeze dried pet food from their facility in Yorkshire. Pure pet food is human and animal food authority certified, and PETA approved.
A single source protein meal which is grain free, chicken dinner contains 25% fresh chicken (equivalent to a dry kibble of 60% meat),  potato, carrot, parsnip, green beans, apple, cabbage, chicory root, salmon oil and necessary minerals. This wholesome chicken is certified nutritionally complete meaning it contains every nutrient required by a dog in sufficient amounts to keep the dog healthy with an excellent nutritional rating.
"Pure foods contain no rendered meats or derivatives, no wheat, corn or soya, colours, taste enhancers, sweeteners or any other nasty bits."
All you need to do is add warm tap water to the amount of food advised for your dog, and it becomes a tasty and palatable meal without the inconvenience of wet dog food.
Pure pet food is a subscription based brand, meaning that you can sign up to a no-obligation plan which is tailored to your dog's specific needs with an initial questionnaire. Pure will then send you your first 'transition' pack and future packs on a monthly basis charged every 32 days. You can cancel, pause, or switch recipes anytime. Many people now find the convenience of a monthly subscription preferable to having to remember to make those regular bulky purchases, so we really like the idea of a flexible plan.
Despite its premium quality, this forward thinking food would cost approximately £1.70 per day which we think is very reasonable. It really is a game changer, and the success stories that Pure have shared are proof that it is well worth a try!
#3. Harrington's Puppy Food
Harringtons Puppy food is a complete pet food that can be fed to puppies from 3 weeks onward and ensure great and healthy growth for all breed types.
Harringtons is a favourite of ours for the adult dogs, and it is a good all rounder, with meat and meat meal as the main ingredients, yet budget friendly and highly rated by hundreds of happy pups.
It has been carefully formulated to provide the correct nurtrition for growing dogs including 28% protein and contains no artificial colours or flavours, no dairy, no soya and no added wheat great for puppies with sensitive tummies and intolerance.
Harringtons provides the conventional benefits associated with premium foods as your puppy will grow well, with a glossy coat and bright eyes, and all important energy for playtime!
Features:
Complete puppy food.
No articial colours or flavours, no dairy, no soya and no added wheat.
With citrus antioxidants, kelp (rich in nutrients), omega 6 & 3 fatty acids
Yucca extract a natural deodrant
With yeast to aid digestion.
Available in 18kg bags exclusive to amazon
£1.79/kg
Rates 4.6 in Amazon.
#4. Pooch and Mutt Puppy Superfood
It's no surprise that many of our favourite adult dry dog foods are the same brands we feature here, and Pooch and Mutt is one of them. This small company aims to create outstanding dog foods by thinking in the same way as human nutrition, with the addition of natural superfoods to really boost the health benefits of the food our pets eat.
Containing only natural ingredients with no artificial flavours, colours  or preservatives and containing superfoods like spinach, kale antioxidants and probiotics, pooch and mutt are confident your pup will be as healthy as possible.
The food contains  'calm and relaxed' supplements chamomile and l-tryptophan which may help reduce anxiety in your young dog.
This is a pricier product but it really is wholesome natural nutrition, and worth giving a try.
Features:
Complete dry puppy food chicken flavour
Contains prebiotics for digestive health
Omega 3 & 6 to aid brain development and learning
Good for behaviour with relaxing chamomile and l-tryptophan
Kibble has small hole in the middle for easy soaking
Free from Grain, Cereal , Gluten, GM produce, Artificial flavours, colours and preservatives
A small, ethical, award winning Great British company
Suitable for all breeds
£4.47/kg
Rated 4.4 on Amazon
#5. Wagg Puppy Dry Food
Wagg Complete Puppy is a balanced formulation packed full of ingredients to help provide your puppy with the best start in life, yet is our best budget choice at only £1.87/kg for a 12kg bag online. It is widely available in supermarkets too.
Ingredients-wise, for a more budget friendly food you will compromise slightly on the meat content, as cereals make up the main ingredient in this food, followed by meat and chicken derivitaves. If you're interested in what goes into dog food, we wrote about what's in your dog's food.
Included are vitamins A, C and E and citrus extracts to help a developing immune system, yeast and fibre for healthy digestion and yucca extract to help reduce those unpleasant smells!
Features:
No added sugar.
Contains yeast and fibre to aid digestive system
No artificial colour or flavours.
Helps build the immune system
Gives pup shiny and beautiful coat.
Contains yucca extract to help reduce the unpleasant odours from flatulence.
Has vitamins A, C and E and citrus extracts to help your puppy develop a strong immune system.
£1.87/kg
Rates 4.5 in Amazon.
#6. Vet's Kitchen Puppy Food 
Vets Kitchen food is a complete food for puppies up to 12 months old. Rich in chicken, and with brown rice which is good for pups with a sensitive tummy/wheat intolerance, Vet's kitchen comes highly rated as a mid-budget puppy food.
Not only is it wheat free but this is a hypoallergenic type of food as it is free of soya, dairy, and beef too – common allergens in dogs.
Created by in house vets and nutritionists. Another plus point from us is the new 100% recyclable packaging that Vet's kitchen are producing. We are trying to make small eco-friendly changes so this really appeals to us.
It is a tasty feed with easily digestible chicken being the main ingredient, appetizing for even the fussiest puppy.
Features:
Great for pups with sensitive tummy, has added prebiotic.
No artificial additives
High-quality chicken for easily digestible protein.
Soy Free, Dairy Free, Gluten Free, Wheat Free
£3.31/kg
Rates 4.7 in Amazon.

#7. Autarky Hypoallergenic Puppy Dry Food
Autarky is a great low to mid priced dry puppy food which is wheat gluten and soya free, lowering the risk of food intolerances, and with poultry meal as the main ingredient too, with a generous range of added beneficial ingredients such as taurine and prebiotics, we are really impressed.
This puppy/junior food is suitable from 2/3 weeks to the onset of adulthood. It contains vitamin E, fatty acids and taurine which are beneficial to cognitive growth and learning.
Antioxidants and herbs are great for a growing immune system, and prebiotics as we know, support digestive health.
Made with your puppy in mind as it contains smaller kibbles for small mouths, it is a tasty chicken recipe which provides high quality protein to support muscle development and moderate energy levels which encourage steady growth for any active puppy.
Features:
Moderate energy levels, 28% protein, 16% fat for steady growth
Vitamin E, fatty acids and taurine for cognitive developent
Antioxidants and herbs help support the immune system.
Prebiotics to promote digestive health.
Designed with smaller kibbles for smaller mouths.
The diet is wheat gluten and soya free making the diet an ideal option for dogs that may be showing signs of food sensitivities/intolerances.
£2.04/kg
Rates 4.5 in Amazon.
#8. James Wellbeloved Lamb And Rice Hypoallergenic Complete Dry Puppy Food
James Wellbeloved are producing high quality pet food with hypoallergenic qualities. They eliminate a higher number of known allergens from their foods – meaning no wheat, soya, dairy, eggs, beef or pork in their recipes, and only single protein sources in each food. We chose to look at the lamb recipe, which is combined with white and brown rice and barley, for a natural and delicious meal for your puppy.
Balanced supply of fibres to support the digestive system. Calcium and Phosphorus for bone development. Smaller kibble for smaller mouths. Yucca extract helps to reduce stool odour. No artificial colours, flavours, or preservatives, no fillers.
Features:
Hypo-allergenic (no wheat, soya, dairy, eggs. beef or pork)

Suitable for all breed sizes

Gentle on your dog's digestion

£2.80/kg
Rated 4.6/5 on Amazon
#9. Royal Canin Medium Puppy Food
How do you know which is the right food for your growing puppy ,with countless dog food options out there? No matter how big or small your pup becomes, Royal Canin has a right-sized diet, made with the precise amount of nutrients needed for every stage of their magnificent future. We looked at two Royal Canin foods as an example of a brand that has produced puppy foods for different sized breeds, rather than 'one size fits all'.
Royal Canin Medium Puppy dry dog food is wholesome puppy food for a healthy start in your puppy's life. An exclusive mix of antioxidants and minerals supports their developing immune systems and keeps their bodies growing strong.
It is a complete and balanced diet which will helps your puppy develop strong bones and joints.
Attractive to any fussy eater with its exclusive kibble design which helps your pup chew their food properly.
Ideal for pups with sensitive tummy as the food contains highly digestible proteins and prebiotic ingredients which help break down the food and support healthy digestion and optimal stools making your puppy grow healthy.
A trusted brand used by many.
Features:
Tailor-made for puppies up to 1 year old with an expected adult weight of 23-55 lbs.
Meets the high energy needs of medium-sized puppies with key nutrients needed during their short growth period.
Helps developing immune systems thrive with an exclusive blend of antioxidants and vitamins.
Supports healthy growth for their bones and joints though a specialized mineral blend.
Promotes healthy digestion with highly digestible proteins and prebiotics for optimal stool quality.
£4.53/kg
Rates 4.6 in Amazon.
#10.Eukanuba Puppy Dog Food
You cannot go wrong with Eukanuba puppy dog as it is an all round, medium budget puppy food, which is tailored to different sized puppies. Ideal for active puppy breeds, it will make your puppy look bright, have boundless energy and healthy as you will not have any problems with his weight, digestion or health.
Teeth cleaning is catered for with Eukanuba's 'DentaDefense' and unique hexagonal shape!
Made from tasty ingredients including fresh and dried chicken, with multiple added nutrients to suit the life stage, it is an enjoyable food for your pup.
You may be inerested to hear that the Eukanuba factory uses at least 25% of its own wind generated power, credentials that appeal to us as we strive to become more environmentally conscious.
Features:
Contains DHA which may help puppies ability to learn and be trained

Prebiotic FOS and beet pulp aid digestion

Vitamins E and C are antioxidant and help the immune system

Calcium supports growing bones

Omega 3 and 6 from natural sources aid healthy coat and skin

A more environmentally friendly factory
£3.29/kg
Rates 4.7 in Amazon.
Puppies of different sizes have different needs, and you need a dry food that will have specific ingredients to address this when buying your puppy's food. Maintaining ideal body condition is key to encouraging proper growth in all puppies, especially large breeds.
Supports your dogs balanced natural nutrition, healthy body mass, overall health and vitality, optimal nutrient absorption, bone and joint health and digestive health. We want healthy and happy puppies at the end of the day.
Your puppy is in a rapid and important period of growth and development. During this time, their weight will increase and they will grow bigger and their organs will continue to develop to support their growing body.
The healthiest start in life can be shaped in your puppy's first years we have done our research to bring you some of the best dry foods on today's market. Woof!