The 'best' dry dog food is quite a subjective concept, considering that all dogs are unique with potentially very different nutritional requirements.
What is Dry Dog Food?
Getting the right dry dog food for your dog can seem a bit daunting when there are so many dog food brands around on pet shop shelves, all offering you more or less the same thing. Added to that, the growing number of dogs that suffer from some sort of food allergy or intolerance, finding the right dry dog food may be a case of trial and error until you find what is best for your beloved pet. So we shouldn't just ask… what's the best dry dog food brand? we need to ask… who produces the best dry dog food meal, that is packed with Nutrition essential for my dog's overall wellbeing!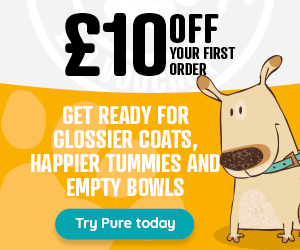 You will find there are hundreds of different dry dog food brands available online. The United Kingdom is home to some of the best dog food brands available in the world.
We cannot guarantee that our list of top 10 dry dog foods will contain the exact requirements for every dog breed, but we have researched the market to bring a selection of the best selling and well loved dog food brands as bought and rated by real customers. As with any review you read, the choices will differ, and therefore we recommend that you make an informed choice, possibly with your vets help especially if your dog has particular health needs.
We have chosen 'complete' dry dog foods which are made with the aim of fulfilling your dogs' nutritional needs, however, check the ingredients and nutritional information of each food before choosing the right food for your individual pet.
In doing our research, we've also tried to highlight some of the smaller UK companies and independent brands as well as larger commercial brands of pet food. There is such a wealth of choice nowadays but hopefully, we'll answer some of the most frequently asked questions and at the same time help identify UK's best quality kibble today.
To save you some time we've created this handy table with our top pick for every category.
Name
Harringtons Complete Lamb & Rice Dry Dog Food, 18kg
Lily's Kitchen Chicken & Duck Countryside Casserole Natural Grain Free Complete Adult Dry Dog Food (7 kg)
AATU 80/20 Dry Dog Food, Salmon, High Protein, Grain Free Recipe, No Artificial Ingredients, 10 kg
Arden Grange Adult Dry Dog Food with Fresh Lamb and Rice, 12 kg
Image
Name
Harringtons Complete Lamb & Rice Dry Dog Food, 18kg
Image
Name
Lily's Kitchen Chicken & Duck Countryside Casserole Natural Grain Free Complete Adult Dry Dog Food (7 kg)
Image
Name
AATU 80/20 Dry Dog Food, Salmon, High Protein, Grain Free Recipe, No Artificial Ingredients, 10 kg
Image
Name
Arden Grange Adult Dry Dog Food with Fresh Lamb and Rice, 12 kg
Image
Best Dry Dog Food UK
For your dog to stay healthy a complete dry dog food will do the trick as it provides all the required nutrients without needing to feed your dog additional supplements. The right dry food for your dog will have the required level of calories considering the health requirements for him.
Dry dog food can be used as a treat for training. Check our article on Dog cameras for more insight into this. If your dog is a slow eater dry dog food is healthier as it is not prone to spoilage because of staying for long in the feeding bowl. The only precaution is plenty of water should be available for dogs on a dry food only diet to quench their thirst.
They are various varieties of dog foods with tasty and balanced recipes with vital nutrients for your dogs needs. We know that good nutrition is vitally important, so we have come up with a variety of dry foods that are tasty (as verified by satisfied pets!), healthy and well balanced.
What Does Dry Dog Food Contain?
A complete dry food will contain all the constituents your dog requires to keep him in tip-top health.
Go to our post 'What is in your Dogs Dry Dog Food' to learn more about the specific ingredients that you are likely to find in dog food, as well as useful information affecting your dogs food requirements. So if you want to know more about what's on the food label, head over for a read.
A short guide on Protein, Carbohydrate and Fat:
Protein – typically an adult dogs diet should contain around 20-30% protein in their diet, puppies generally needing higher to meet their growing needs, and adult working dogs generally have higher protein needs than say a sedentary pet.
Fat – typically around 9-14% , fat contains twice the calories as carbohydrate, too much may lead to obesity. Some are 'essential' such as omega 3 and 6, as these cannot be made by the dog, and fats serve important purposes such as in the brain, and maintaining healthy skin and coat.
Carbohydrate – dry dog food generally contains around 46-74% carbohydrates. Carbohydrate therefore tends to make up the main nutrient in dry dog foods which is significantly more than in their wild canine ancestors. Part of this is because carbohydrates are plentiful and cheap, and are needed in making of the dry kibbles. Domestic dogs however can digest carbs as they are omnivores and they do require glucose (breakdown product of starch).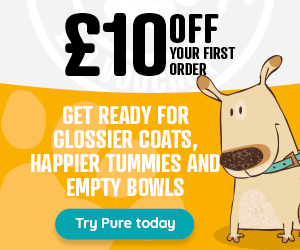 Grain free or hypoallergenic? 
More dogs are suffering food intolerances and allergies. These can cause a huge range of symptoms which you may not have previously attributed to your dogs' food. Grains are a common contributor, and many companies are now producing grain free foods. Bear this in mind when making your choices. Many dog foods will also be labelled as 'hypoallergenic'. To learn more about what this means, we wrote about Hypoallergenic Dog Food and this contains the information to help you decide.
From our research and experiences, we came up with a great selection of the 10 best dry dog foods with affordable prices that considers the nutritious needs of your dog, focusing on adult dogs in this article. If you are looking for puppy specific food take a look at our article on best dry puppy food here. We came up with an assortment of tasty dog food recipes that offers the balanced and dietary needs of your dog.
Here are our top 10 best dry dog food brands on sale in 2021.
1. Pure Pet Food – Wholesome Chicken
In recent years, the demand for ultra high quality dog food has certainly increased. We are more aware of what we are feeding ourselves and our pets too. The pure pet food brand was born out of the question 'would you feed your pet anything you wouldn't eat yourself'. In a short space of time, Pure pet food has gone on to win awards, and creates high quality, human grade revolutionary freeze dried pet food from their facility in Yorkshire. Pure pet food is human and animal food authority certified, and PETA approved.
Pure have a range of tasty complete dinners, for example let's look at Wholesome Chicken.
A single source protein meal which is grain free, chicken dinner contains 25% fresh chicken (equivalent to a dry kibble of 60% meat),  potato, carrot, parsnip, green beans, apple, cabbage, chicory root, salmon oil and necessary minerals. This wholesome chicken is certified nutritionally complete meaning it contains every nutrient required by a dog in sufficient amounts to keep the dog healthy with an excellent nutritional rating.
"Pure foods contain no rendered meats or derivatives, no wheat, corn or soya, colours, taste enhancers, sweeteners or any other nasty bits."
A feeding guide is available for each food, which just requires the addition of warm tap water to make it into a delicious, palatable meal yet which has a shelf life of 12 months.
Pure pet food isn't going to be the cheapest pet food on the market, when you compare it to the huge commercially produced dry dog foods out there. But for approximately £1.71/day you could feed a large 20kg dog (based on an 8kg bag of wholesome chicken) human grade, hypoallergenic, super high quality food, and it goes without saying that we are super impressed with it too.
2. Lily's Kitchen Adult Chicken and Duck Complete Dry Dog Food
A highly rated product, Lily's kitchen is a nutritionally complete and grain free dry dog food for dogs over 4 months of age. It contains no derivatives, preservatives or fillers, and contains only natural ingredients. Proper meat is used, no meat meal or rendered meat.
Lily was a border terrier whose owner was incentivised to devise wholesome natural recipes with the help of vets and nutritionists which she was happy to feed her beloved dog. Lily's kitchen provide both dry and wet dog food, treats and chews, and do their best to provide complete nutrition for every life stage.
Lily's kitchen even has a Royal Warrant! Now if that's not an incentive to give it a try, what is?! Even royal pooches have a taste for this luxury dry dog food. Lily's kitchen are also a certified B-Corp company, which identifies companies genuinely acting in a positive way and making a positive impact upon the world.
Lily's Kitchen dry dog food has the look of a regular dry dog food but with only freshly prepared natural ingredients. It is therefore not cheap, however less costly than raw dog food or those like Pure above, which are made from novel processes, and it comes so highly rated that we are sure your pooch would love to give it a try!
We've chosen the chicken and duck recipe for this review.
The recipe contains freshly prepared chicken and duck with added glucosamine and chondroitin for bone and joint support, prebiotics for healthy digestion and essential nutrient for dogs health. Salmon oil is a source of omega 3 fatty acids, good for coat, heart brain and joints. Herbs, vegetables and essential vitamins and minerals also make up this wholesome recipe.
Features:
Nutritionally complete, grain free dry food for dogs 4 months +
Freshly made with 31% Chicken, 8% Duck
Packed full of fruits, Vegetables and Botanical Herbs
Support healthy bone & joints and boosts the immune system
No derivatives, preservatives or fillers – all natural healthy goodness
Natural ingredients, complete nutrition, grain free recipes
Bone and joint support, immune system boost
Approx £5.71/kg (12kg bag)
Rated 4.7 on Amazon
3. Harringtons Dog Food Complete Lamb and Rice Dry Mix
A best selling favourite. Harringtons is a family run business, with food made in Thirsk, North Yorkshire. Harrington's USP is their commitment and focus towards the environment. This means that